The Design Process
Creating gardens of distinction and excellence for over 25 years
The Design Process. Initial Consultation
We will arrange a consultation to discuss your ideas and evaluate the project on-site. This meeting is an opportunity for you to see what we can do for you and show you the potential of your space.
An overview survey of the garden, including sketches and costings, will be discussed. After this meeting, if it is required, we will send you a design proposal and outline drawings based on our initial briefing. The design process is one where your lifestyle and wish list will be taken into account. We try to ensure that all aspects of your lifestyle are taken into consideration.
We will summarise on the day the best way forward. Small gardens generally can be designed and priced on the first visit.
Larger projects require a lead-in time to get the final plan in place. Costings are included on all jobs, and a time scale for completion is given based on work.
NB
From our experience, "don't leave new builds or extensions to the last minute", we are constantly finding missed opportunities within the construction phase; for example, cables are usually never fitted correctly towards creating lighting for the garden.
Design Processed Summarised For Small Gardens or Easily Defined Spaces
We will call and give you an evaluation on your site
Suggest design ideas and hand draw perspectives on the day.
We ask all our clients to give us their wish list, so we can ensure that we understand the design brief fully.
Continued...
You will be given a 3 d hand sketch drawing of your space and shown where the elements are placed in your space.
We will examine your site for the best focal points, patio space, trees shrubs; vistas etc., and place them into a design brief.
All hard landscaping, soft landscaping, sculptures, lighting drainage requirements will be discussed.
Any privacy screening and finishing's will be shown to achieve the best result for your garden space.
Costings usually can be done on the day for small spaces.
The Advanced Process.  Spaces That Require Further Detail
We will call and give you an evaluation on your site.
Suggest design ideas and hand draw perspectives on the day.
We ask all our clients to give us their wish list to ensure everything is written down
You will be given a 2d hand and sketch drawing of your space and shown where the elements are placed in your space, this is to assist us in the final preparation of the master plan
We will examine your site for the best focal points, patio space, trees shrubs; vistas etc., and place them into a design brief.
All hard landscaping, soft landscaping, sculptures, lighting drainage requirements will be discussed.
Continue with design and planning presentation.
We will return with drawings for your approval.
Costings will be included at this stage.
An average price of detailed large gardens is around 300 euros-800 euros depending, on 2-dimensional plans, 3 dimensional perspectives can be extra.
A garden plan in CAD can take two-three weeks
At this stage of design, we will solve any site problems and indicate soft and hard landscaping features in our first presentation
A plan is presented showing areas that require hard landscaping and soft landscaping, outline planting and rough costing given.
Lighting plans are indicated on all drawings, we review security lighting and all soft lighting effects
If required we will produce 3D drawings to help communicate our ideas.
We work closely with engineering firms on metal gates hardwood gates, , electric gate automation.
We work with artists from time to time in bespoke sculptures.
Our bespoke ideas, products or technical features will be explained through drawings or communicated by our engineer resident architect, garden designer.
At this stage any final amendments are done, final drawings costing and schedules are given. A schedule of how long the garden requires to build and the final costings.
Site Survey
Large Gardens And Defined Spaces That Need A Design Process
This can be done manually or be taken from a drawing already made. This is usually only required on larger projects. Most homes have CAD drawings and we ask you to send these over to us in DWG format,
"Don't worry if you don't have one. "We can take the measurements if required. The drawings if available should provide us with the site layout as close as possible and also cover boundaries, septic tanks, garages, extensions, driveways, walls, existing trees, change of level, side entrances, etc..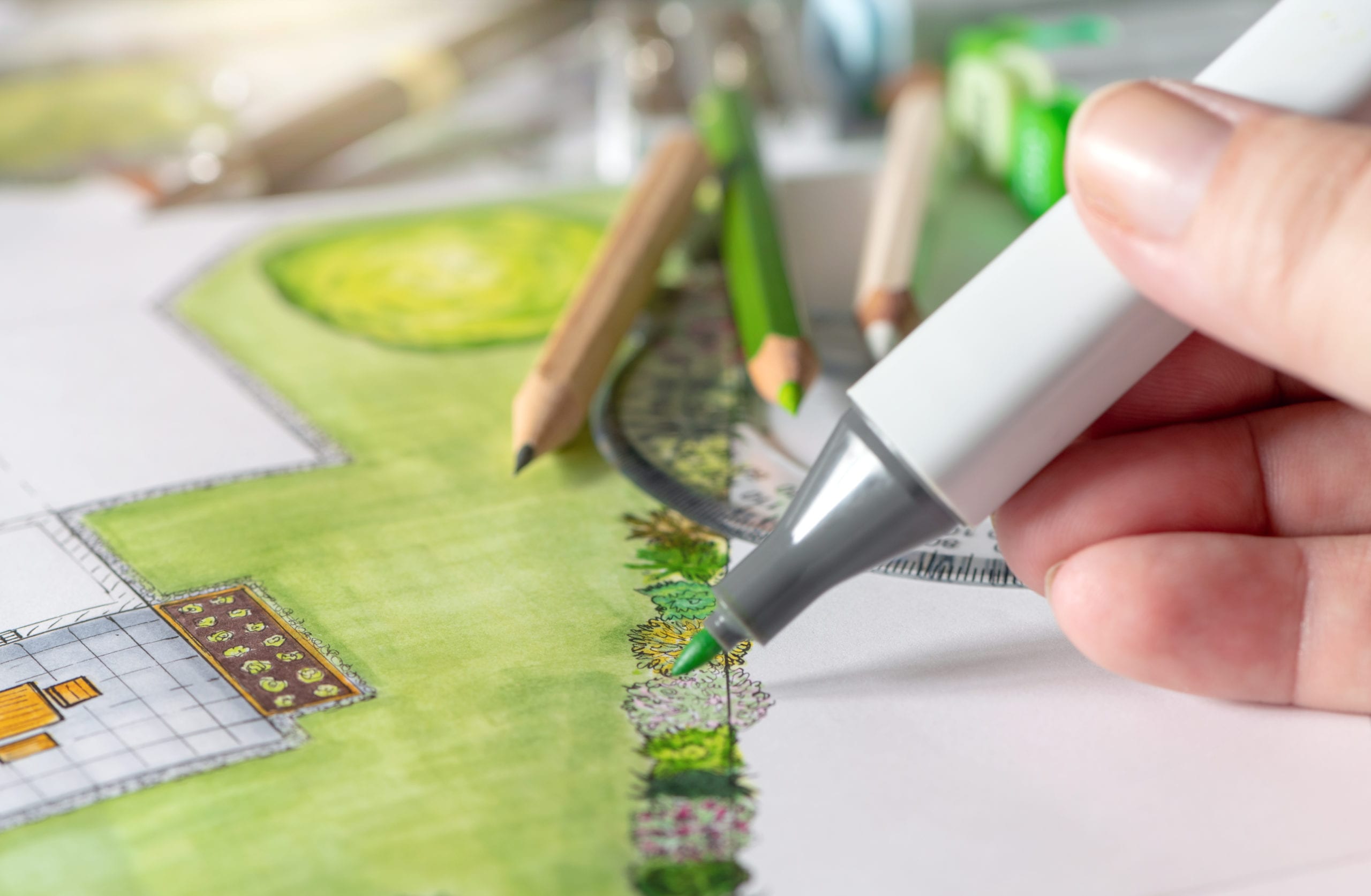 Concept Plan
Hand Drawings Of The Plan At The Initial Phase
This is working out the ideas, concepts and how they will tie together when the plan is finalised
Small Gardens
Smaller gardens sketches and concept plans can be done very quickly and can be explained by the designer. The formulated look is done by sketching and translating that image to explain to you how the design will look when completed
Large Gardens
During this process we will do out a layout drawing, and get you to check how you like the feel of it, sometimes we will do two options of the space needs some extra attention. This will show you the overall layout and scale of features that are proposed in the new garden.
In some circumstances we will produce some alternative layouts but following the consultation. We can discuss any amendments and tweaks to the design before we develop the masterplan.
The Master Plan
This is the final presentation in 2d or 3d format and will show you features and the final position of the elements of the garden layout.
All lighting fixtures and tree point's features etc. will be shown.
The master plan is presented showing areas that require hard landscaping and soft landscaping, outline planting and costing given.
At this stage any final amendments are done, final drawings costing and time schedules are given.
There is a material selection for you to see at this stage and this shows you how the design fits together.
Optional Extras
Design detail drawings
3dimensional drawings (perspective drawings)
Planting plans (on request)
Landscape plans for planning permission on new houses.
Garden Lighting plans
Garden management (supporting clients with design/build only)
Fruit and veg areas design/ children fun spaces etc
Bespoke sculptures
3D Perspectives
The Design Perspective Of The Finished Product
We provide perspectives for people who have an idea but don't know what it will turn out. We try to do perspectives for most of our work as it shows the client what is possible and how it will turn out.
We use CAD aided programs and watercolour effect depending on scale and presentation of the job.
Construction Drawings
Construction drawings will be produced for any bespoke features in the design. For most designs, landscapers will build from the masterplan and elevation drawings however construction drawings will be produced for more complex projects where it is necessary to produce formal tender documents.
Plants And Seasonal Colour
Our preference as horticulturists is to outline the main mature planting, trees, and herbaceous colour and how they will impact on the design.
 A visit to the nursery to see what plants are available can be an organic process and sometimes I find some clients like to be involved in the process of picking plants.  There is a meeting where they will see the process of how a plants palette comes together.  You can see the shapes colour flowers that are going into their garden. It can be a rewarding experience for all involved.
The customer then will be able to see how all the plants work together in position by the horticulturalist and they will also know how the will grow in a few years' time.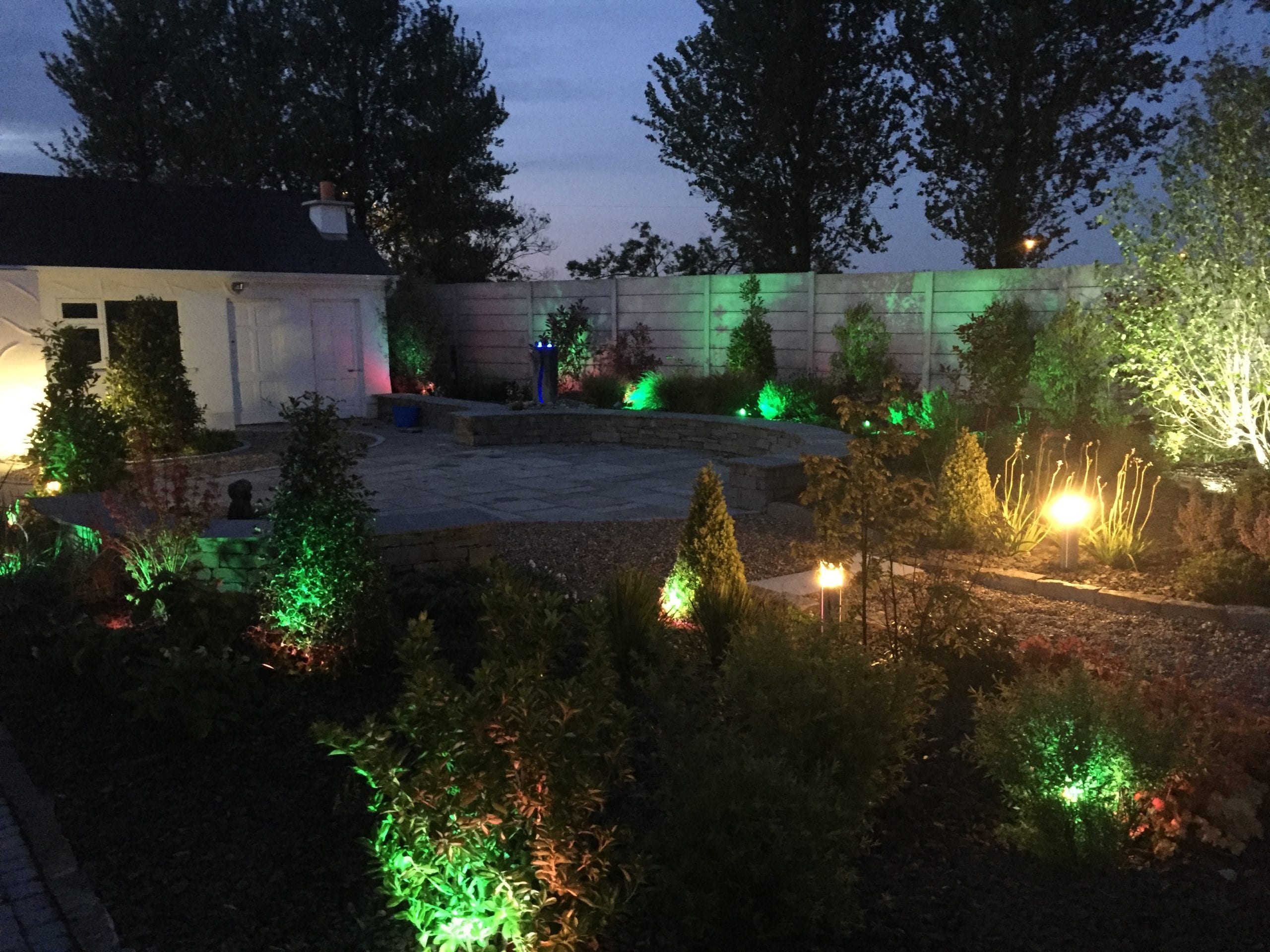 Lighting Plans
We can tailor lighting plans to complement the garden design to highlight features.
This includes specification of fittings and lights are fitted by our certified electricians.
We can recommend fittings for any situation from uplighting cast-iron lamps to spotlighting.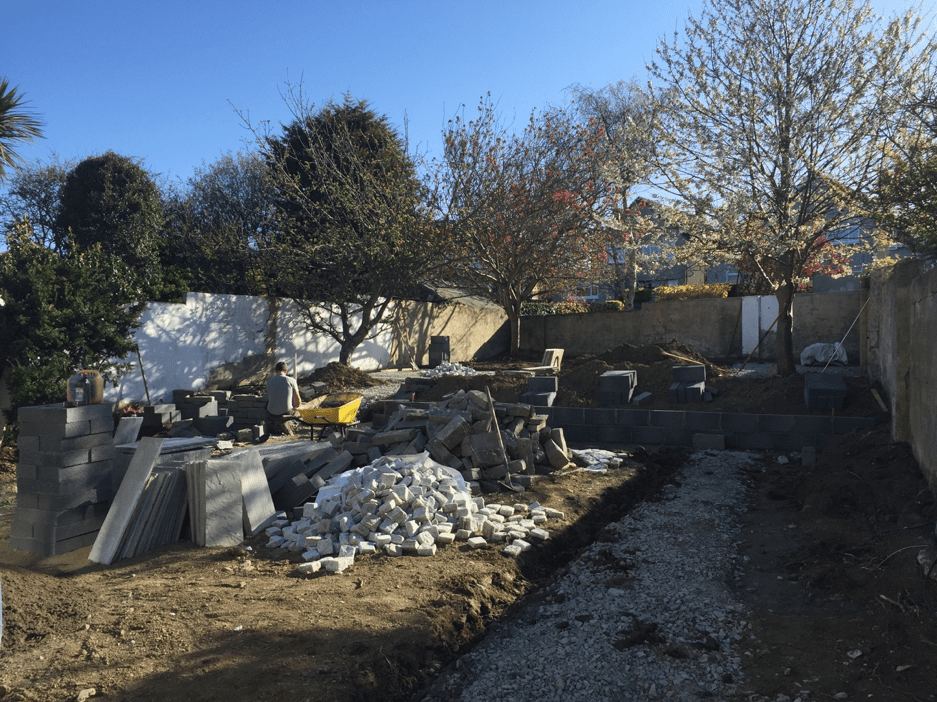 Building The Garden, Creating The Dream
Once you are ready to implement your garden we organise all of our contractors in place. Our design and build team will prepare the site for electricians plasters etc. We usually mark out all spaces and then reconfirm lines with the customer so everybody knows what is happening. All of our contractors know the desired finish and quality we are looking for in any of our projects from start to finish. Our clients know that we have the confidence and experience to deliver on time and our attention to detail is very important to us.
Our construction team are friendly, and we have been told by many clients that they enjoyed having the workers around their house, we want you to feel comfortable throughout your experience with us.
All our work is fully insured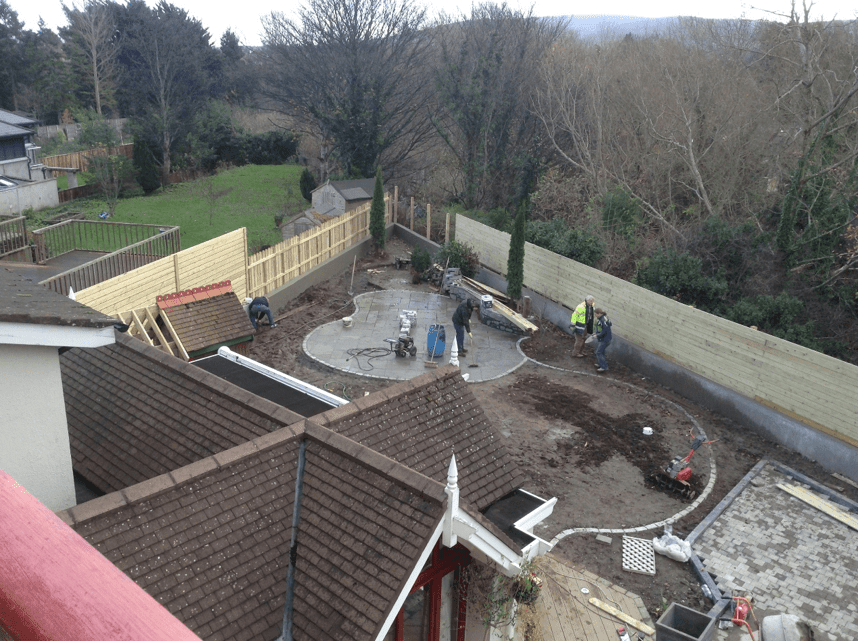 The Construction Phase
Once a contract is established we will schedule our different teams in place as required throughout the build.
A time scale reference will be given based on the scale of the job, and issues resolved before starting.
Normally we are 4 weeks ahead during construction lead-in times.
Meetings to agree markings and layouts will continue throughout the job and any adjustments noted.
Payments are based on a stage process of completion and agreed formally.
All final specifications, logistics worked out at the final meeting.
Final lighting, planting, engineering requirements require a final meeting to ensure that all installations are correct.
All finishing's are done with a final client designer brief.
Budget
The Design Perspective Of The Finished Product
On all our gardens we do not skimp on our materials, we try to use the best possible products. Our advice would be not to compromise on the design template where possible.
However, like any project, there are compromises and options on any project once be made on each project once it doesn't affect the overall template
A garden sometimes will need to be adjusted near the end of the project, if the budgets are constrained, we will tailor our planting and finishings to the budget.
We like to think that our garden designs are of good value and will increase the value of your property.
Free Site Survey
Feel free to send us your drawings in CAD format or paper scaled drawings for costing or design referral.  We provide a full architectural drawing service if required to complete a new build extension for homeowners, architects etc. We have years of experience in one of home plans and development.
Is your company insured?
Yes, we are fully insured.
What is the project process?
We visit the customer for an initial free consultation and make some initial hand sketches. Based on initial consultations, we provide a quotation for the suggested work. When the customer wishes to proceed with the project, we develop a detailed plan for the work we will be carrying out.
During what hours are you available to meet customers?
As per agreement with the customer.
Do you remove rubbish arising from project?
Yes we will remove all rubbish.
Can you provide ongoing maintenance and support?
Yes. We can organise a maintenance contract.
Is a garden design really necessary? What are the benefits?
The number one benefit of a set of plans is that they reduce ambiguity. The customer knows exactly how his or her finished garden will look. And the landscaper has a clear plan to follow."
"Secondly, a good plan can be phased in over a period of time. If you can't afford to do all the work in one go, the work can be staged."
Can you give any advice about choosing a garden designer?
"There are no hard and fast rules, but there are certain skills that a garden designer should have.
Versatility
Get an idea of the garden designer's style. Ask to see photos or sketches of their work. Make sure that their portfolio shows a variety of designs and ideas."
Horticultural Background
"Ask whether the garden designer has a horticultural background - especially a knowledge of plants and materials. Practical experience of planting and materials means that they will have the ability to put together the planned garden within budget."
Presentation Skills

"Look at the level of detail in their design portfolio. Can the garden designer measure and draw space accurately? 
In order to communicate their ideas to you, garden designers must have good presentation skills. Most professional garden designers are using AutoCAD now. But they should also be able to provide 3D sketches to illustrate concepts."
Special Features
"Some people require very specialised garden features. In this case, the garden designers need to have the expertise to assess if these are feasible"
How much does a garden design cost?
The cost of the design really depends on the level of communication needed. Garden Designs cost from €300 upwards. That would include a 2D layout drawing and rough 3D concept sheets.
I will work with the client until he or she is happy with the design. I don't want payment until that has been achieved.
Alternatively, clients can arrange a one-off consultation with a garden designer. That will give you ideas for the potential of your space. Typically, they cost from €80 upwards."
What questions will the garden designer ask? What information should the homeowner provide?
The garden designer will want to find out the following. How do you use your home now? What way would you like to use your home? What lifestyle do you want?"
A garden designer should consider how the house and garden relate to each other i.e. the internal/external relationship. Is it necessary to introduce elements like patio doors or external lighting to make that relationship work.
As well as the functional aspects, the aesthetic aspect of the house will dictate the style of garden.
An indication of the complete budget is also helpful."
What happens after the design process is completed?
There's a couple of options here. One option is to retain the garden designer to organise a landscaping contractor and supervise the project.
Alternatively, if clients want to DIY the project, we can put together a self-management project. That's becoming popular in Dublin now. Essentially, the home-owner either builds the garden themselves or directly contracts a landscaping contractor. For a set fee, I will advise the homeowner on a regular basis.
Do you have any design likes or dislikes?
I don't like oversized decks which run the entire length of a house. Ideally, the back door of a house should lead to a stone surface for safety reasons, especially for those damp Dublin days.
I like a good balance between architectural plants and soft foliage plants because it's pleasing to the eye."
What are your top garden design tips?
The garden designer should provide samples of the materials which are going to be used in the garden. Remember that natural stone products have variations, so the actual material delivered may differ from the samples.
Mature plants make a big difference to a garden and it's worth having a budget for them.
If you're renovating your house, it's important to call in a garden designer. 90% of architects will overlook the garden.

An expert team creating gardens of distinction both large and small for over 25 years
© Creative Garden Design 2020
Look What Our Clients Are Saying
Contact Details
Dublin Studio
3 Landsdowne Valley Park
Dublin
Tel/Fax: +353 (0) 1 4920101
Mobile: +353 (0) 86 8146924
Skype: creativegardendesign
E-mail: cgdsean@gmail.com
Midlands Studio
Cloonteagh
Newtownforbes
Longford
Tel/Fax: +353 (0)43 3329787
Mobile: +353 (0) 86 8146924
E-mail: cgdsean@gmail.com