Stone Wall Design
Creating gardens of distinction and excellence for over 25 years
Natural Stone Walls/Retainers
I have found in my garden designs and renovations over the years, that there is something majestic, and stunning about a natural semi dry stone wall, where the stonemason craftsman can create a low wall, stone-faced wall, or bespoke sculpture that will reflect back the simplicity yet most pleasing of texture and presence that will complete any space.
"Simply said natural stone looks good no matter what setting, focal point, renovating a tired garden it is placed in" it crossed all style lines. I find that natural stone creates a reflective quality in any home, it can also be designed to be functional or have a sculptural quality to the finish We work with a number of quality stones from around the country different colours and finish, depending on what is the best to complement your designs.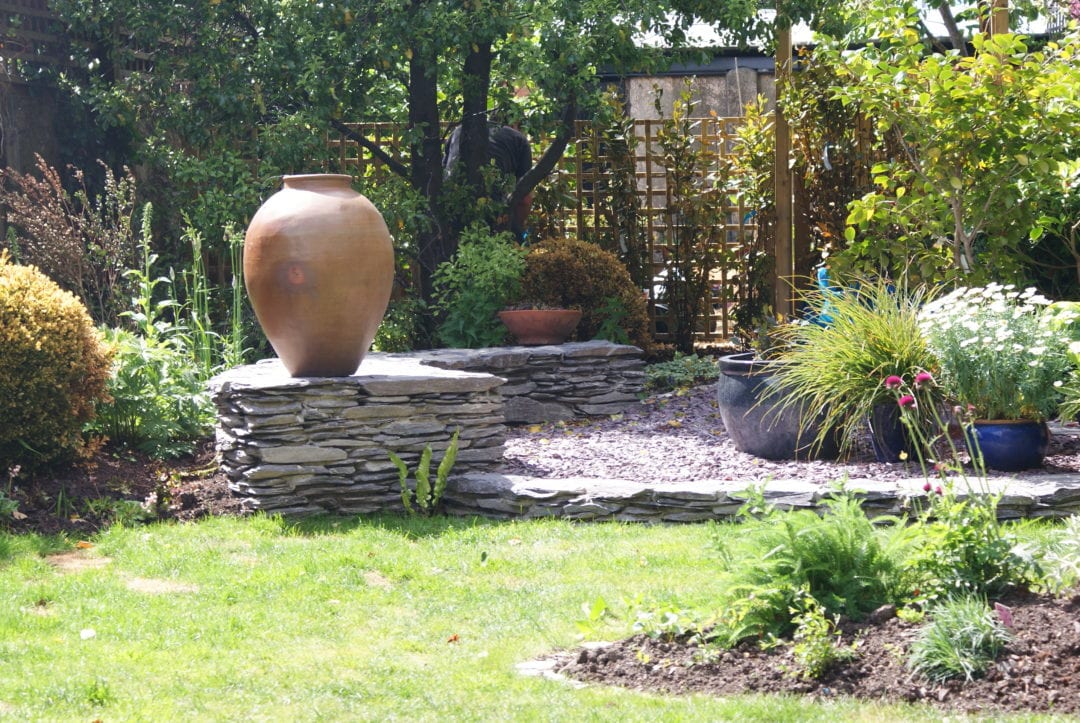 Concrete Block Walls
Concrete walls are another way of giving a contemporary finish and a clean finish.
Blocks give you great flexibility in creating divisions, sloped spaces, or bespoke features.
They can be plastered and then finished with paint, or with a permanent rendering finish.
I have found that plastering existing walls, even though it might cost more is worth it in the long run in terms of the quality of finish. This can scare people off, all new renovations have a lot of glazing nowadays and, I think if you are doing feature walls you should plaster all visible lines.
Clean Cut Timber Retainers
New cut railway sleepers are also another attractive way to build retaining beds, this works well in small spaces, or where you are isolating an area as part of the overall experience.
Timber panelling faced of to give a structural finish this is painted with farrow and ball finish colour. Sleepers also make great dividers.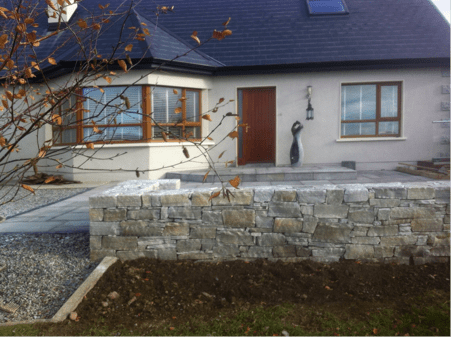 Is your company insured?
Yes, we are fully insured.
What is the project process?
We visit the customer for an initial free consultation and make some initial hand sketches. Based on initial consultations, we provide a quotation for the suggested work. When the customer wishes to proceed with the project, we develop a detailed plan for the work we will be carrying out.
During what hours are you available to meet customers?
As per agreement with the customer.
Do you remove rubbish arising from project?
Yes we will remove all rubbish.
Can you provide ongoing maintenance and support?
Yes. We can organise a maintenance contract.
Is a garden design really necessary? What are the benefits?
The number one benefit of a set of plans is that they reduce ambiguity. The customer knows exactly how his or her finished garden will look. And the landscaper has a clear plan to follow."
"Secondly, a good plan can be phased in over a period of time. If you can't afford to do all the work in one go, the work can be staged."
Can you give any advice about choosing a garden designer?
"There are no hard and fast rules, but there are certain skills that a garden designer should have.
Versatility
Get an idea of the garden designer's style. Ask to see photos or sketches of their work. Make sure that their portfolio shows a variety of designs and ideas."
Horticultural Background
"Ask whether the garden designer has a horticultural background - especially a knowledge of plants and materials. Practical experience of planting and materials means that they will have the ability to put together the planned garden within budget."
Presentation Skills

"Look at the level of detail in their design portfolio. Can the garden designer measure and draw space accurately? 
In order to communicate their ideas to you, garden designers must have good presentation skills. Most professional garden designers are using AutoCAD now. But they should also be able to provide 3D sketches to illustrate concepts."
Special Features
"Some people require very specialised garden features. In this case, the garden designers need to have the expertise to assess if these are feasible"
How much does a garden design cost?
The cost of the design really depends on the level of communication needed. Garden Designs cost from €300 upwards. That would include a 2D layout drawing and rough 3D concept sheets.
I will work with the client until he or she is happy with the design. I don't want payment until that has been achieved.
Alternatively, clients can arrange a one-off consultation with a garden designer. That will give you ideas for the potential of your space. Typically, they cost from €80 upwards."
What questions will the garden designer ask? What information should the homeowner provide?
The garden designer will want to find out the following. How do you use your home now? What way would you like to use your home? What lifestyle do you want?"
A garden designer should consider how the house and garden relate to each other i.e. the internal/external relationship. Is it necessary to introduce elements like patio doors or external lighting to make that relationship work.
As well as the functional aspects, the aesthetic aspect of the house will dictate the style of garden.
An indication of the complete budget is also helpful."
What happens after the design process is completed?
There's a couple of options here. One option is to retain the garden designer to organise a landscaping contractor and supervise the project.
Alternatively, if clients want to DIY the project, we can put together a self-management project. That's becoming popular in Dublin now. Essentially, the home-owner either builds the garden themselves or directly contracts a landscaping contractor. For a set fee, I will advise the homeowner on a regular basis.
Do you have any design likes or dislikes?
I don't like oversized decks which run the entire length of a house. Ideally, the back door of a house should lead to a stone surface for safety reasons, especially for those damp Dublin days.
I like a good balance between architectural plants and soft foliage plants because it's pleasing to the eye."
What are your top garden design tips?
The garden designer should provide samples of the materials which are going to be used in the garden. Remember that natural stone products have variations, so the actual material delivered may differ from the samples.
Mature plants make a big difference to a garden and it's worth having a budget for them.
If you're renovating your house, it's important to call in a garden designer. 90% of architects will overlook the garden.

An expert team creating gardens of distinction both large and small for over 25 years
© Creative Garden Design 2020
Look What Our Clients Are Saying
Contact Details
Dublin Studio
3 Landsdowne Valley Park
Dublin
Tel/Fax: +353 (0) 1 4920101
Mobile: +353 (0) 86 8146924
Skype: creativegardendesign
E-mail: cgdsean@gmail.com
Midlands Studio
Cloonteagh
Newtownforbes
Longford
Tel/Fax: +353 (0)43 3329787
Mobile: +353 (0) 86 8146924
E-mail: cgdsean@gmail.com